Car shampoo for contactless car wash
We present to your attention Active Foam (Car Shampoo) for car washing in a non-contact way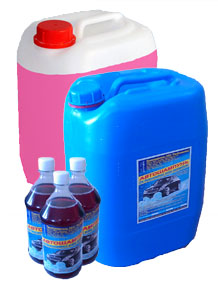 Car shampoo for automatic, non-contact car washing is a high-tech product for non-contact car washing. Removes the most stubborn road grime (dust, oils, grease, insects, tree sap and clay).
It has good dirt removal properties and can also be used to clean engines of heavily soiled trucks. Due to the special active elements contained in the product, the contactless cleaner can be used as a detergent in high-pressure cleaners for washing trucks and the inside of tanks.
Mode of application:
- Pre-wash dirt with water pressure.

- Apply car shampoo evenly for touchless washing. In the case of application with a foam kit, dilute in a ratio of 1:2–1:4. A more accurate dosage depends on the settings of the equipment. Due to the low working concentration, the foam is economical to use and does not harm the surface of the car. Car shampoo is applied using a foam generator, sprayer, foam kit. The car shampoo creates a persistent abundant foam that is easily washed off from the surface, adds shine to the surface and does not harm paintwork surfaces.

- Wash off the foam with water pressure after 2-3 minutes. The car shampoo is easily washed off with water, does not leave stains on the car body, contains a degreaser and a corrosion inhibitor.
Precautionary measures:

Use the car shampoo at a temperature of at least + 10 C. Do not allow the car shampoo to dry on the car body. In summer, it is recommended to apply foam on a cooled body.
Do not use to clean car interiors. Protect your hands and eyes. Use protective shoes and gloves, goggles. In case of contact with eyes, rinse with running water.
Check prices with managers, please